Reliable and motivated volunteers
for organizations and sustainable startups
With purpozed, we want to offer non-profit organizations and sustainable startups a tool to recruit and manage motivated, qualified and reliable volunteers faster and easier. Many organizations shared their needs with us and so we were able to develop purpozed together WITH organizations FOR organizations.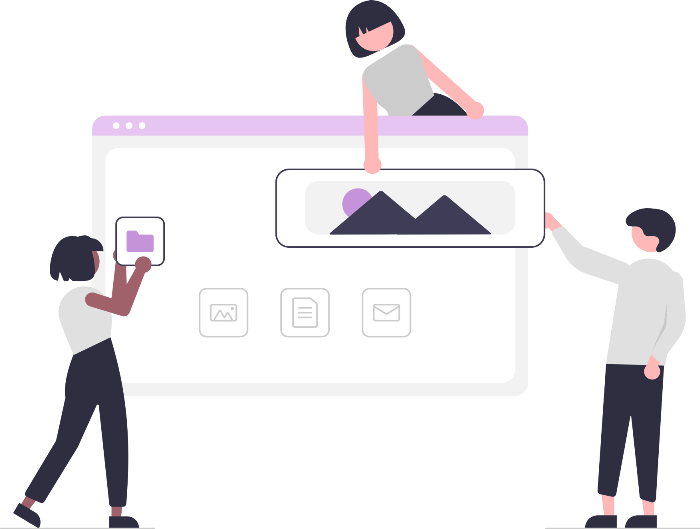 These and many other organizations and start-ups are already in:

Benefits for Organizations and Sustainable Startups
Virtual volunteer engagement
Our platform offers only engagements and projects that can be supported regardless of location. Volunteers on the purpozed platform are passionate about helping digitally and helping via phone, email and video conferencing.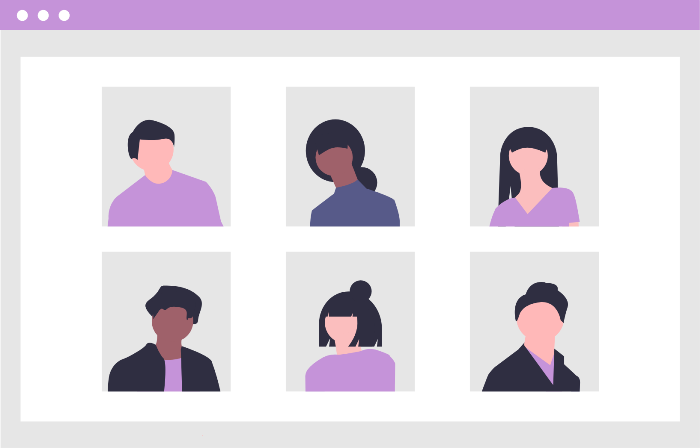 Motivated and reliable volunteers
We pay very close attention to the reliability and motivation of volunteers, ensuring they really are a help to your organization. We only work with companies that want to actively promote volunteering among their employees.
Highly qualified experts for every need
On our platform organizations always find highly qualified experts who want to apply their professional skills directly to organizations. From A as in Accounting to W as in website design.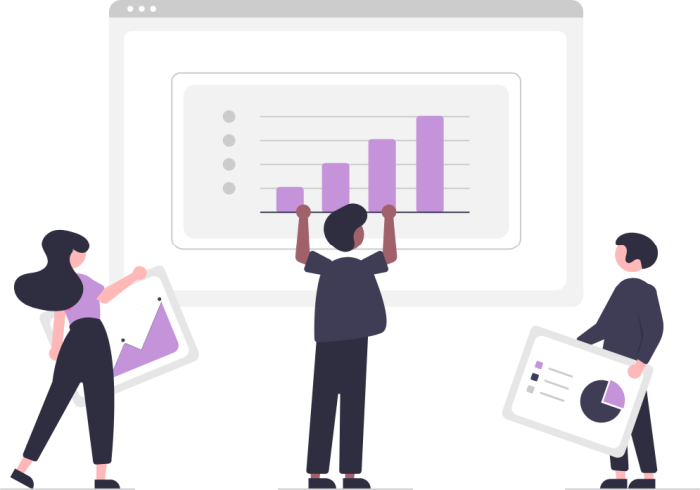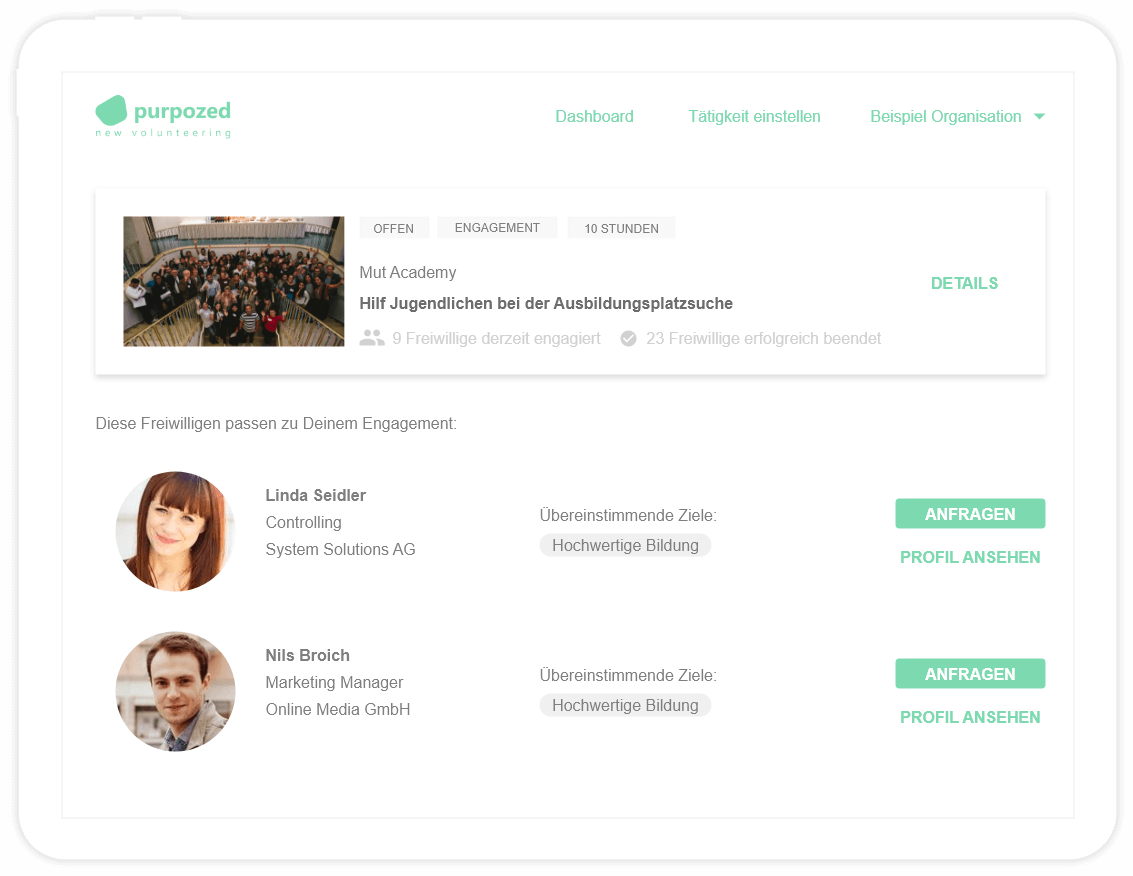 Request suitable volunteers directly
How do you increase the chances of getting the right volunteers to volunteer? It's simple: you ask them! On the purpozed platform organizations get recommendations and alerts for the best matching volunteers so that they can easily reach out and request their support with one click.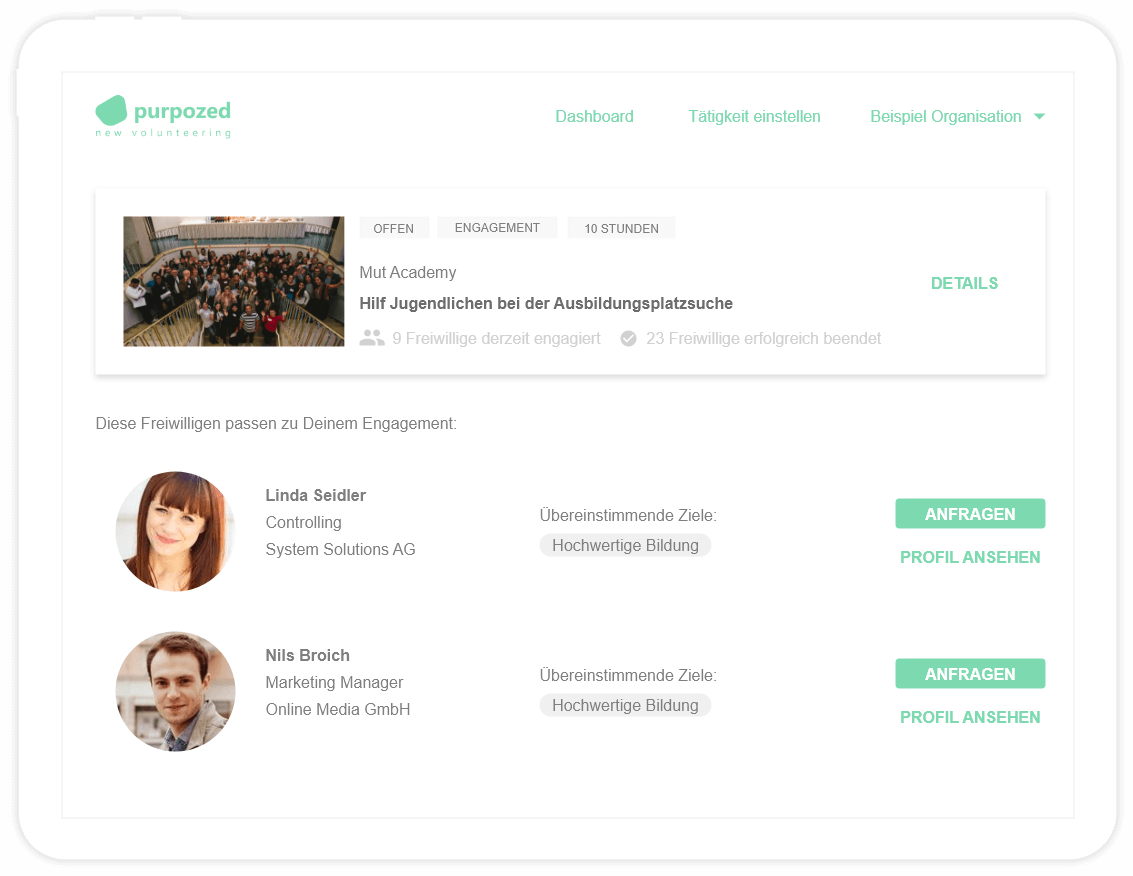 Post projects in just three minutes
We offer over 100 different projects with complete project descriptions stored in the system. This saves organizations an enormous amount of time, because it eliminates the need for time-consuming formulation of the respective requirements. Simply select a project and you're done!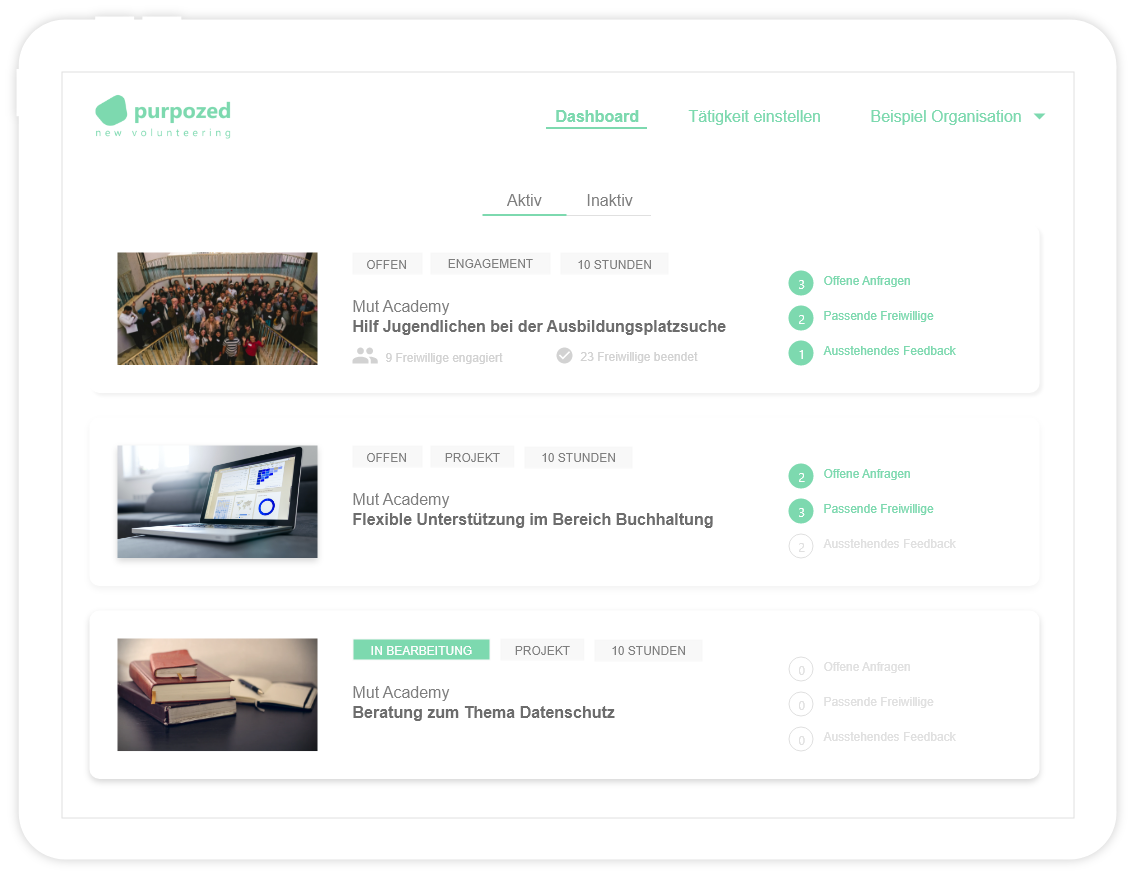 All activities at a glance
With purpozed organizations always have an overview. Which volunteers are interested in which activity and whom can be asked directly? Who is involved where? And who has successfully completed an activity? Our dashboard summarizes all essential information.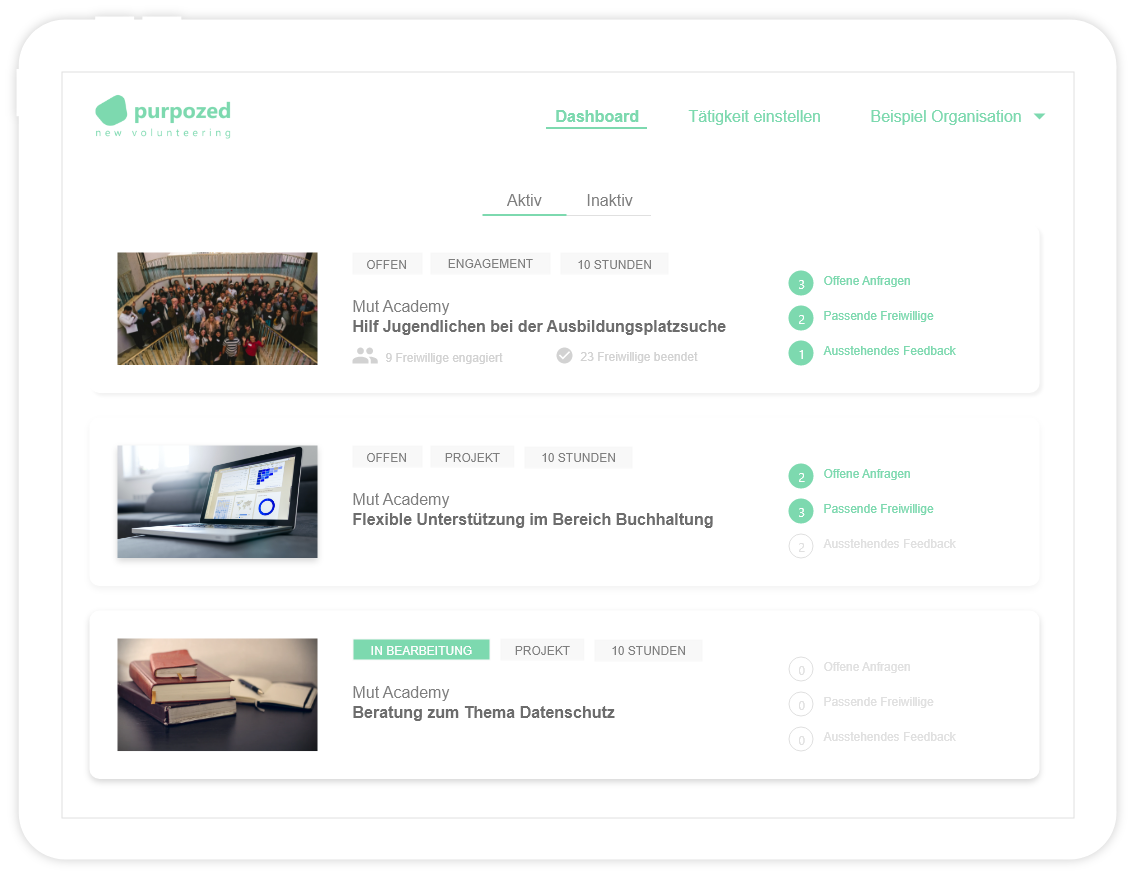 Permanently free of charge for organizations
For us it goes without saying: We want to support organizations that are committed to social or ecological goals, not make money with them.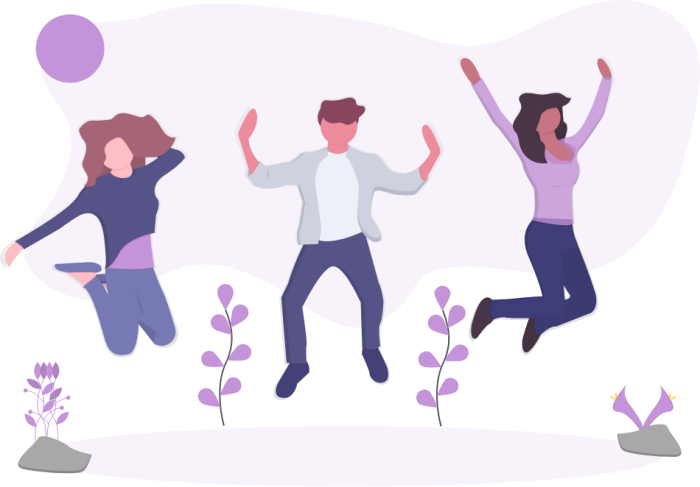 Frequently asked questions & answers
Which organizations can use purpozed?
All non-profit organizations that can relate to one of the 17 United Nations Sustainable Development Goals have the opportunity to use purpozed. In addition, we give Sustainable and Social Startups that are in an early stage of their development and need support access to the platform and thus experienced professionals who want to get involved in this area.
Why is the use of purpozed permanently free for organizations?
We want to ensure that non-profit organizations do not pay for the help they receive. We charge a monthly fee to our corporate partners, who can guarantee their interested employees access to the platform. They receive numerous features to manage and measure the success of their corporate volunteering activities. his way, we enable NPOs to use our platform free of charge on a permanent basis.
For what types of volunteering activities can organizations find volunteers on purpozed?
We allow for any activity that can be carried out remotely and via digital platforms. We assign all activities to one of the following four categories:
Engagements: Volunteers help the target group of the organization – i.e. those in need – often regularly over a longer period of time possibly also only once and for a short time / no special skills required
Projects: Volunteers help the organization directly by carrying out specific projects, e.g. creating websites, advising on data protection, designing brochures, or improving accounting / projects always have a fixed, predetermined number of hours and volunteers need the appropriate skills
Mentoring/Training: Volunteers usually help the organization directly by acting as experts in a specific area on a regular basis over a longer period of time (e.g., 2 hours per week for 6 months)
Calls: Volunteers help the organization directly by answering acute/concrete questions as an expert during a one-hour phone call. Calls are also suitable, for example, when organizations do not know exactly which project to tender for
What are the first steps for organizations to use purpozed?
Organizations basically have two ways to get started on purpozed:
Together with us: Contact us by email (support@purpozed.org) or via chat window: We will then find a suitable date, guide you through the platform in a video conference, help you create a profile and support you in creating initial engagements or jointly develop ideas for virtual volunteer activities.
On your own:You can of course create a user account yourself at the URL. https://portal.purpozed.org/signup/organization/, explore the platform on your own and request support from us at any time via the chat window or by e-mail (support@purpozed.org). Answers to frequently asked questions can also be found in our help section.